We've teased this a few times in previous newsletters but, it is official, our new Data Protection Portal goes live next week!
We've been working on this behind the scenes to improve your data protection service and ensure that you are getting even more value for money. The new portal contains all of the same functions of the old but with improved usability, reporting and a host of brand new features. What does that mean for you?

When you first open the new app, you will be greeted with this screen. From here, the buttons across the top will allow you to quickly log breaches, SARs or Data Decisions, or navigate straight to your audits (more on that later) and documents.
Below that is a summary of all of your breaches, SARs and data decisions as well as an overview of your accountability tracker based on your most recent audit and self-assessment.

To the left of the screen is our all new menu which will help you to navigate to the relevant part of the portal.
As you can see here, there are now additional functions to those that you are used to with the old system which include:
Audits – the Accountability Tracker is now built as a live tool into the system with easy to use action plan and reporting features.
Data Mapping – view and download your school's data map telling you what data you hold and in which systems.
Data Processors – identify which processors your school uses and ensure that they are compliance checked and risk-assessed. This will feed back into your data map to give you a complete picture.
Quickly Log Breaches, SARs and Decisions from the Dashboard!

As well as having their own sections just like the old portal, you can also quickly add breaches, SARs and data decisions straight from the dashboard. Click the button at the top of the screen and fill in the new pop up window that appears.
The new logging tools contain the same information as the old portal but with additional functionality. They have also been formatted in a way to assist with your workflow as you deal with the breaches and SARs and work through the processes. For example, you can now add images and attach linked files to breaches and SARs as required. SARs also have an auto-reminder function that will send you a notification 2 weeks and 1 week before the SAR is due, to prevent deadlines being missed and help with your workflow.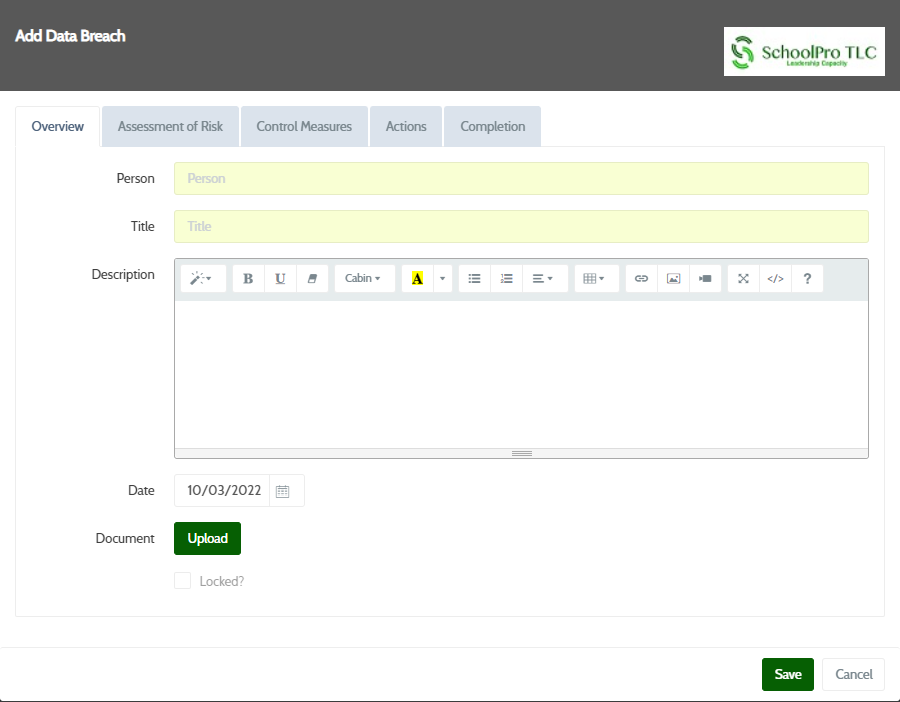 Audits – Live Accountability Tracker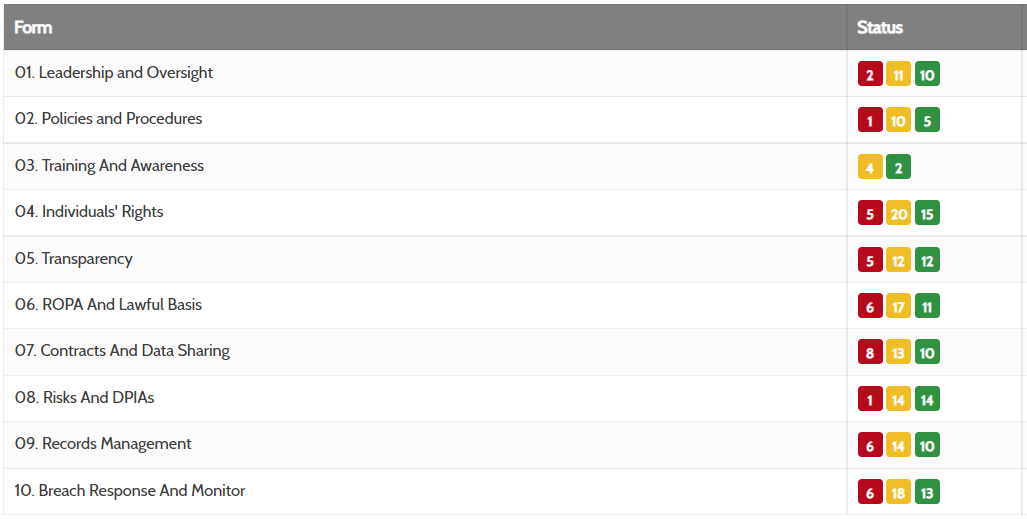 Those of you that have had audits since October half term will have seen the new accountability tracker we featured in our newsletter a few months back. This tool RAG-rates the school against the ICO's 10 categories of Accountability and helps you to create an action plan to achieve and maintain full accountability and compliance.
This tool has been in the form of a spreadsheet up to now. The new portal has the tracker built in which gives a live and up-to-date assessment and action plan which will reflect the audits undertaken by us as your DPO and highlight the work that is being done regarding your Data Protection accountability and compliance.
The tool will also provide you with a reporting function for SLT, governors and trustees as well as the overview dashboard for strategic oversight.
Data Processors, Data Maps, Compliance Checks and DPIAs

The new portal also has a data mapping tool. We have pre-loaded several hundred common processors used by schools, trusts and other education establishments. You can select from the list to build up your data map as well as add new processors to the system as well. We can then work with you to ensure that they are compliance checked and DPIAs are in place as well as making that processor available to other schools/trusts to select for their own data maps.
All of that is just the tip of the iceberg. There are other features in the new portal such as: 
Different levels of user for MATs to provide oversight across multiple schools. 
The ability to add folders to the Documents section to better organise Global Documents. 
The ability to add useful weblinks into the Documents section as well as folders and documents.
And we have a host of further features to add over the coming months and years. Plus we want your feedback too as it is user feedback that helps us to drive improvements. 'You said, we did'!
We will be communicating again towards the end of the week with instructions for the switch to the new portal.
We hope that you enjoy the new user experience!
​Please contact us if you do have further questions at DPO@schoolpro.uk.
SchoolPro TLC Ltd (2022)
SchoolPro TLC is not responsible for the content of external websites.